UC Irvine
Attendant on-site Monday thru Friday 7:00-10:00 AM and 3:00-6:00 PM to assist with fueling. Note: Hydrogen bus fueling occurs nightly between 10:00 PM and 2:00 AM. Customers may experience delays or be unable to fuel during this period.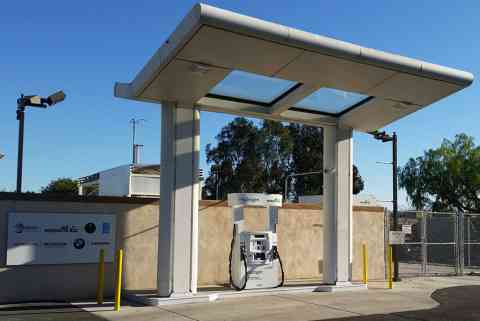 Last Updated: 03/25/2017 10:18 am
*H35 = 35 MPa or 5,000 PSI
*H70 = 70 MPa or 10,000 PSI
19172 Jamboree Rd, Irvine, CA 92612
Opening Hours: 24/7 - (limited from 10pm and 2am to support bus fueling).


Customer Service: (800) 489-6677


The UCI Station now has an on-site attendant Monday through Friday 7:00 AM to 10:00 AM and 3:00 PM to 7:00 PM. The attendant is available to assist customers with refueling, and answer any questions. Additionally, a brochure box with instructional information is available to assist drivers when the attendant is not on site. The UC Irvine Station serves three fundamental purposes: 1) retail sales of fuel, 2) research, and 3) hydrogen bus fueling.